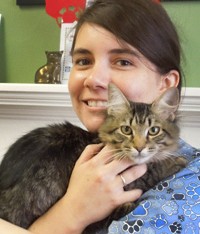 Veterinary Assistant
Marty started working at CHAT as a veterinary assistant not long after moving to the area from California. As an avid animal lover and rescuer, she has volunteered in numerous animal shelters and worked at veterinary clinics since her late teens.
Fondly known as "Mom" to a small menagerie of pets — three kitty cats, one silly puppy-dog, three fun loving ferrets, and one sly snake, Marty has high hopes of furthering her career in the veterinary field.
She is inspired everyday by helping and understanding our four legged companions. Marty enjoys reading, music and comic books. Her love of the pop culture arts can be only be triumphed by her love of soft furry creatures!